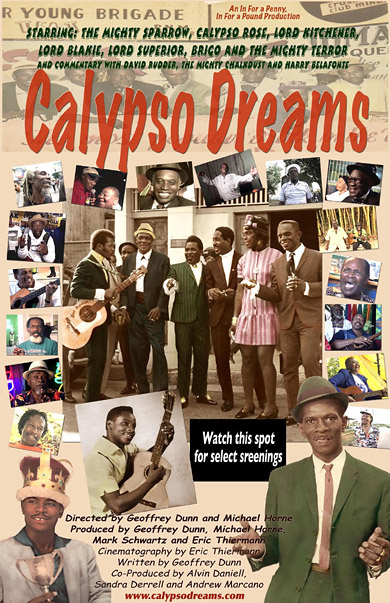 Finally, Calypso Dreams, the award-winning documentary is scheduled for release on DVD this summer. The politics that delayed the release for almost 4 years has finally been cleared and the long-awaited video will be availabe in stores soon. For an extensive interview on the background of the film, check out this link:
http://www.jouvay.com/CalypsoDreams.htm
Calypso Dreams was Winner of the Best Caribbean Documentary at the Jamerican Film Festival, Audience Favorite at the DC Film fest, Pan- African film festival, Mill Valley Film Fest and embraced by an entire nation in Trinidad, Calypso Dreams chronicles the rich and complex cultural roots of calypso music in Trinidad and Tobago.
Produced and directed by Geoffrey Dunn and Michael Horne with co-producers Mark Schwartz, Eric Thierman, associate producers Alvin Daniel, Sandra Derrell and Andrew Marcano (Lord Superior), Calypso Dreams is an intimate portrait of some of the true Calypsonians in Trinidad and Tobago, in performance and in conversation. Shot over 3 years in Port of Spain, Trinidad, the documentary includes such legendary calypsonians as Lord Pretender, Lord Kitchener, The Mighty Bomber, Relator, Lord Superior, Brigo, Mystic Prowler, Calypso Rose, The Mighty Sparrow, Terror, Valentino, Blakie, David Rudder, Regeneration Now, The Mighty Duke, Conqueror and many others.
Check this blog regularly for breaking news on Calypso Dreams.